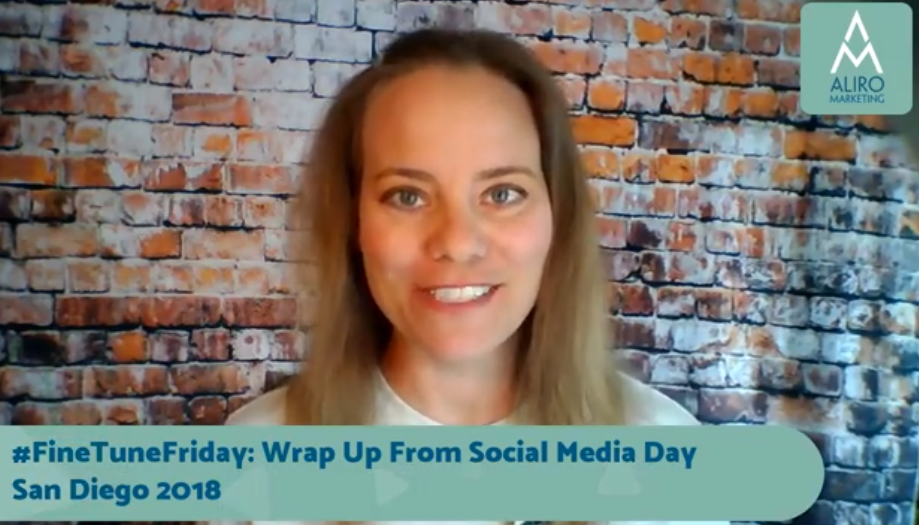 Final Wrap Up From Social Media Day San Diego 2018 – Part 3
(Disclaimer: Many factors will be important in determining your actual results on social media and no guarantees are made that you will achieve results similar to ours or anybody else's, or that you will achieve any results from our ideas and techniques presented in our blogs or videos.)
If you missed out on attending Social Media Day San Diego, it's ok – we've got you covered! This week's topics will be about building a better experience for your audience with relationship marketing, influencer marketing, and the legal issues surrounding influencer marketing.
Jessika Phillips: #HXPerience – How to Grow Your Brand using Relationship Marketing
By the year 2020, the #1 deciding factor someone will choose one business over another is the customer experience! People want to have a connection with a brand, they want to be a part of something.
Be a known connector so your customers can have smaller more meaningful connections to have a better experience. One way to do this is to be a "magnet", not a "bull horn". A brand needs to know what they have and who they can offer it to using the right techniques. To do this, it's a good practice to use the C.A.R.E. system:
C – Capture your audience's attention. Who are your top buyer personas? Do you know your buyer persona? If you don't know, you can develop one at www.makemypersona.com

People don't want to be sold to – brand's should speak to their audience in a personal conversational way that makes a customer feel like you're speaking only to them! A customer's attention is much more than just viewing your content – it's them giving their permission for you to speak to them. Everyone is a broadcaster, be a magnet that draws people in!

A – Articulate your message & answer their questions. Make what you're saying stupid simple about what you do; if you have too many steps or make the offer too complicated your customers will leave.
R – Relationship focused on your customers. If you're on social media just to sell your products or services and "what's in it for your brand", then you're on social media for the wrong reason. It's not about your brand, it's about your customer! Once you're relationship focused, you'll find repeat referral business comes easy because people will love you & what you do, that they're going to tell their friends & family members!
E – Exceptional Experiences. Everyone provides "good" customer service, but not everyone WOWs their customers. If your company can go above & beyond to provide more than your customers are expecting, that's when they take notice; now you have that special opportunity to provide that exceptional experience that makes them feel special and come back time and time again.
In addition to C.A.R.E, brands need to follow the 4 – E's of Relationship Marketing to provide that exceptional experience. A brand's content should be one of these:
Educate
Engage
Expert
Entertain
It's ok to sell on social media, but make it feel like you're not selling! Make your message & story all about the customer. You've probably heard the saying from Maya Angelou, "People will forget what you said, and what you did, but people will never forget how you made them feel". People think in stories, so make your customers the hero in your brand's story!
Relationship marketing is more powerful than traditional marketing – Quit counting likes, and use comments to turn into a meaningful conversation; start counting conversations!
If you're struggling for content ideas, turn your customer's comments into content. That's what your customers want to know about, so use that to your benefit, but make it about your customer's experience.
Another content idea that builds relationships is collaborating with others, even if they're in the same space – share content and create new content together.
Personalize your customer's experience with your brand. If they're a new customer, or having a birthday, etc. find a way to add something a little extra for fun: send a handwritten note or card or gift. Send a video message as a reply instead of just commenting. Make the experience feel "human" and not bot-like.
The best marketing doesn't feel like marketing! Exceptional experiences make the interaction between your customers and your brand seamless. Ensure the information you provide is 100% accurate; make your website load extremely fast; respond in a timely manner to requests online – any little touchpoint can make or break a customer experience even before they talk to you!
If people love working with you, they will insist their friends do business with you too. At the end of the day, relationships are the greatest currency in business. So what can you do to create a better experience for your customers?
Influencer Marketing Panel: Mitch Jackson (Social Media Streaming Lawyer), Mariana Cimino (Director of Client Services at Casual Fridays), & Taylor Glymph (VP of Marketing at Spoke Hub)
They just dove right in & opened it up to Q&A.
1) What is "Influence"? Does Influencer marketing even work?
Casual Fridays, Mariana: Start by shifting the perception to content creation and outsourcing that creativity not necessarily their reach.
Trust, Reach, & Content are the areas that Influencers can really help with, but need to figure out if the influencers can contribute to the look/feel of the feed, can we use their content in an ad, and can we drive ROI with their content.
Spoke Hub, Taylor: Influencer marketing used to be and "add-on" type of service, but now it's become a standard for social media today. You have trusted voices that help you make decisions: back in the day, we'd listen to Oprah and did what she said; now we have micro & macro influencers who can help position your product/brand in a way that provides trust.
Macro Influencers: those who have millions of followers & reach that everyone wants to have & looks at. Sometimes they're too big to influence or reach all of their followers.
Micro Influencers: those who have more of a specific niche with a unique type of customer. Often times, micro influencers are more potent, and can reach more of their followers on an intimate level.
Want to look for potency, look for people to deliver your message in a way that's seen & heard. As we've seen, as reach grows, the engagement sometimes declines.
Social Media Streaming Lawyer, Mitch: Influencer marketing works, unless it doesn't. If everyone (Influencers, social media agencies, and brands) involved understands what the FTC requirements are & the changing laws surrounding that, if you have clear, written agreements in place prior to working together, influencer marketing can work.
2) What's the best way to track the coverage of the influencer & report the ROI to your client who is invested in them?
Mariana: Use good old fashioned google sheets with influencer's names & the content they produce. Then for the ROI, what's the engagement of that content used? With an emphasis on content, you can't count the instant gratification of likes/comments for ROI – look at it from a quarterly perspective because sometimes it pays off more later on.
Basic metrics to measure: What are you measuring? It can't be all things to all people. For her example campaign, it was content; it only mattered how many pieces of content she received; she wasn't interested in likes/reach for this particular campaign. Generally though its how many likes/followers received?
Taylor: Also it's the call to action (CTA) – what are you asking them to do? Did they take that action? Are their links involved, & did they click on them? This way you know which influencers are driving which links/actions.
Mitch: The biggest problem he sees is the miscommunication about what the expectation is for the campaign? What is it that you're looking for? What are the platforms you're going to need? In writing, not a text, not an email, in a physical written document, lay out all the understandings between the parties involved.
At one time, this was the "wild west" – no one knew what to expect, no one was following any FTC rules. He browsed an influencer agreement with a famous NBA player and it was over 18 pages long, with lots of details.
If you're an influencer, enter into these agreements as a corporation that protects your personal assets. There are lot of terms & conditions with state & federal laws, FTC compliance. If you're a brand who reaches out to a social media agency who reaches out to an Influencer, and that influencer doesn't have a user agreement, who is liable if something goes wrong? Or doesn't deliver what is expected?
There's about 20 specific clauses you need in your influencer agreements to be compliant and not be held liable should things go wrong. These vary depending if you're the influencer, brand, or agency.
3) How many times should you reach out to an influencer if they don't respond to you the first time (before the agreement is reached)?
Taylor: Look at an influencer's engagement – are they responding to their customer's comments? Does the quality of their posts align with your business goals? These are the people you want to work with.
You may want their influence, but it's not worth your time, and you should never be chasing someone who doesn't respect you & your time, because their work will be done half-heartedly at the end of the day.
4) How can you tell if a micro-influencer will be potent?
Taylor: You can tell a bunch of different ways: look at the actual engagement on their pages; how they're uniquely able to deliver a specific set of services to their customers; how can you use their skills when applying it to your brand – find the synergy. Then you won't have to control them or their content because you know they align with your brand's values.
Mariana: Take your time & build a rapport with the influencer first! Don't just ask them to help you on the first point of contact with them; that's sort of an aggressive move. Start by liking & commenting on their posts, maybe Dm-ing them a few times on other subjects – GET TO KNOW THEM FIRST. It does take a long time to develop those relationships; there's no shortcuts when building relationships because we're going back to "people".
5) With Facebook's new rules about not allowing brands to pay influencers to share & boost your posts, besides having the influencer contribute to your posts, are there any other work arounds?
Mariana: Use FB new Brand Collabs tool. Helps take responsibility to working with real people, not bots, and contributes to transparency. You can use FB's tool to see what they post so you can boost it & amplify it; and the other one is a list of influencers so you can find & match to your specific business goals.
Mitch: What he's seen is accounts have been shut down because the influencer has violated the platform's terms of use & agreement. Get in writing that the influencer understands their responsibility to do their due diligence in respect to the platform's user agreements so everyone is doing things the right way. It's simple to just dot your i's and cross your t's to avoid problems later on. As this industry matures, the government, the state attorney generals, and the FTC is taking this more seriously, so protect yourself & do things right the first time.
6) What's the best way for a small brand who has never done influencer marketing before to get started working with influencers?
Taylor: Going back to brand alignment, as you search the different social channels, finding the voices that keep popping up in relation to what your brand aligns with; then build rapport & connection with influencers first before making that "ask".
In terms of budgets… You find the perfect influencer that is aligned with your business but they're massive. How do you know what size of Influencer you should be going after, and what they expect to receive?
Taylor: There's lots of different ways you can approach this. We work with a myriad of influencers, some are massive but believe so much in what we're doing that they're willing to work with us & be a part of something new; thus are doing things "in kind".
As a smaller business if you can differentiate yourself & find your selling point as to why you offer these unique set of opportunities, that can start to alleviate some of the budget issues because the influencer will want to be a part of something special & unique & believe in the product/service.
It's ok to approach the budget topic by saying, "this is what we can afford…do you believe in this? And would you be able to accept our offer?"
Mitch: Along those lines … Do your due diligence in a background search on the influencer; have them sign a contract. Have they been convicted of a crime or other felony? Think of Jarod from Subway. Don't put your entire marketing budget behind someone who you haven't done a due diligence background check.
Turn that around: as an Influencer, you're approached by a brand – how do you know they have the funds to pay you for the next 6 months of work? There's nothing wrong with getting paid in advance up front; you can have the money put into an escrow or trust account in holding to help get things running. Companies sometimes rely on the influencer's work to pay for the cost involved in hiring the influencer; kind of robbing Peter to pay Paul. That's a bad way to operate.
Mariana: Most of the campaigns they've done have been on a trade basis & works well for them. Make sure you get the right agreement in place though – still need a contract even for a trade deal. If you understand their needs, there is something you can offer them – maybe a free hotel, etc.
Mitch: Everything we've already talked about applies to trades, but something else to get in writing is whether or not this is an exclusive relationship? Can the influencer also work with someone else at the same time? Is the influencer allowed to promote your competitor's products?
He's seen *a lot* where there's no money being exchanged, but it's a thing where I'll let you use my platform in exchange for promoting your product, and because there's a "casualness" to the relationship, that influencer is out promoting competitor products. Just get things in writing to save yourselves headaches.
7) How can you calculate the influencer is providing a real media earned value?
Taylor: Goes back to what Mitch was saying about setting clear expectations. Get in writing a clear expectation of what's being delivered, how many posts are expected to be done, when, who you can work with, how will things be delivered, what is the timeline/deadlines? What are you looking to see/get from this relationship? As long as those things are outlined in writing up front, it'll prevent problems from occurring.
Mitch: In your agreements, you want to outline the scope & course of the relationship; how long, what's the quantity, etc. Have a vetting process in place.
And especially for out of town people, have a venue clause in your contracts that says any disputes, any litigation or mediation has to be in your city so you don't have to fly somewhere & occur those expenses; make the other party come to you.
8) Have you used any 3rd party influencer outreach programs such as Famebit, Grapevine, or Revfluence?
Taylor: We use carousel but that still requires vetting to make sure they can still uphold their end of the agreement. It's kind of a hands off approach and you might pay a premium to use these because you're not doing the actual work & using google sheets, but the relationships have already been built; it's a foot in the door without having to manage things yourself. Any tool is a tool; it's intended to be managed.
Mariana: I'm torn on this….I love that there are tools out there to help, but vetting is an important process you don't necessarily want to outsource; that's a human thing. Still takes some time to form your own rating system & make a decision based on your experience. Don't take out the human element. You still need to decide if you like that content; does this align with our goals. You need to know your process first, and then figure out if you need tools to make your process work better. Don't start with the tool and then go to your process. The tools focus too much on vanity metrics that we're trying to steer away from, not if the content is good.
Mitch: In my opinion, with these kinds of tools, you're playing Russian roulette with the liability of your company because you don't know if everyone is going to be doing what they're supposed to be doing.
9) Is there a price guideline for influencers? i.e. If you have 10k followers, you can expect to pay xyz in dollars to influencers.
Mariana: There's not 1 answer. There are people who are paying more/less simply because they don't know any better; there's no real number. When you're looking at what you're asking for, that's a good way to match what you think you should pay. Ex. If you're asking someone to deliver 50 edited photos, here's a $20 voucher, that's not going to work. But if you say, here's what I would pay a photographer, is that the same quality the influencer would deliver, then you can find what matches based on your ask.
Mitch: In regards to larger influencers, it matters more about who has the best agent to negotiate.
10) What do you suggest for B2B?
Mariana: It goes back to alignment. B2C can be a little easier because there are sexier products to promote. But for B2B it's alignment – is there someone in your space that can tell that story really well. You're not going after tons of followers; you're going after someone who can bring legitimacy & a lot of good content to what you're doing. Again, outsource your creativity that your team can't internally do.
Taylor: To add to that, at the end of the day, in a B2B, there's still a human decision maker. If you can find that person and who that person is influenced by, that will be a good place to start.
11) Do you have a list of clauses/rules to include in your contracts?
Mitch: There's about 20 different talking points you want to have in every contract, depending on if you're an influencer, agency or brand. (see next 2 images)
12) How far in advance should you start interacting with influencers if you know the month you need the content produced?
Mariana: Plan in quarters, 3-4 months. Especially if it's a big ask or you're looking to do something for a specific event. Start liking/commenting/DM-ing, and don't be afraid to take things offline – meet up for coffee.
Please contact us by using the contact form on our website or through Facebook messenger (@AliroMarketing) if you have any questions! Stay Social!